Every parent always wants the best for their babies. There's nothing worse than seeing your little one struggling at night when they have a cold. It can cause them to be tired from lack of sleep and uncomfortable from the difficulties of breathing. The best baby humidifiers that will keep your bubba breathing easily is one of the best solutions.
Humidifiers are a great way to help keep moisture in the air. It will stop the space from becoming too dry and prevent mould or bacteria build-up. Meaning you can sleep better at night knowing your little one can breathe more comfortably through cold and flu season. Yes, this is particularly helpful to your baby's breathing and skin in the colder months. It is especially noticeable when the cranked-up heating could dry out the air more than usual.
Should I use a baby humidifier?
Babies come with a lot of products and finding room for more might be difficult, but adding a humidifier to your list of 'baby must haves' will show benefits for the whole family and not all will take up that much room on the shelf.
It might seem like a big investment, but the benefits of a humidifier are great. Benefits include the fact they help ease a range of symptoms from allergies and eczema to colds and flu.
Sleep Consultant Lucy Wolfe says, "They can be helpful to add moisture to the air that can support clearer breathing and avoid drying out your fragile skin, especially when the air is dry due to climate and central heating. It is certainly becoming a more popular parent purchase, but I don't typically recommend them unless the parents themselves feel strongly about them.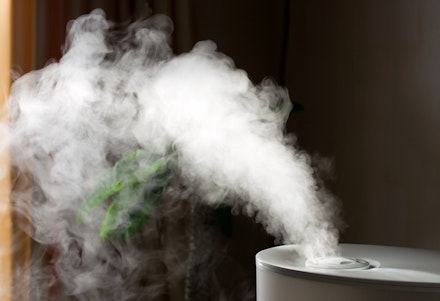 "My understanding is that moisture is gently distributed into the environment that helps to avoid the mucus in the nostrils from drying up, which may help to avoid congestion or avoid common coughs and colds. As a result of the moisture, that is balancing out a dry atmosphere, largely caused by insulation and central heating, this may also help to avoid their baby skin from also drying out and becoming itchy.
"So helpful for children prone to coughs, colds and congestion and maybe also children with skin irritation. Some models make a slight sound too and this may act as a 'white noise' background sound that can be comforting for some children as it is reminiscent of the womb. I don't feel that there are any disadvantages per se, but whether it is a necessary purchase I can't say."
While it might not be necessary, there are certainly many benefits for you and your baby from using a humidifier in the home. There are a number of different types of humidifiers including aromatherapy, cool mist and warm mist humidifiers and we've included a range of them here for you to browse.
Best baby humidifiers 2021
Babymoov Hygro Plus Ultrasonic Humidifier
Best humidifier with nightlight
This noiseless humidifier is expertly designed to provide clean and healthy air for your baby. You can monitor the temperature; humidity rate and even diffuse essential oils. It's also helpful for reducing congestion and flu symptoms, keeping you assured your baby is in the healthiest environment. We love that Babymoov created this model with mums and their recommendations in mind.
Specs:
Weight: 750g
Dimensions: 26.8 x 24.2 x 35 cm
Key feature: Nightlight with 7 colours
One reviewer said: "I think this humidifier is brilliant! My son has enlarged adenoids and uses a humidifier all night. This one is great because you can turn the direction of the air easily without moving the whole appliance, you can remove the plug when you need to empty the appliance, no filter is needed and it provides a great level of vapour. The only thing that I would like is to have a level less of steam and I also found the instructions quite poor so I had to watch the videos on YouTube."
Challenge Ultrasonic Humidifier
Best easy-clean humidifier
Your little ones will sleep and breathe easier at night with this quiet humidifier that emits a cool and calming mist. It helps to relieve cough, cold and flu symptoms and is a perfect aid for dry skin, making your baby's room feel lighter and fresher. You can be rest assured your baby is sleeping in the healthiest environment possible.
Specs:
Suitable for room size 25m²
Dimensions: 34 x 20 x 22 cm
Key feature: Easy clean filter
Reviewers have said it's really helped with children who have suffered from allergies or illnesses: "This humidifier is perfect for my daughter's room. Helped her sleep well when she was ill with tonsilitis recently" and "I purchased this for my son who has Asthma and it has made a difference for him".
Vicks Sweet Dreams Cool Mist Humidifier
Best humidifier with dreamy room projections
The 2-in-1 humidifier is safe to use around children, as there is no risk of burns. It's also compatible with Vicks VapoPads that can help clear children's airways, meaning they can breathe easier during the night. During cold season, it can help reduce the survival of cold and flu viruses too, so if you have a cold it can help keep your little ones healthy.
Specs:
Dimensions: 33.8 x 28.9 x 28 cm
Weight: 2.5 Kg
Key feature: 3.8 Litres tank that can last up to 24 hours
One reviewer said: "Very quiet. Easy to use. It is quite large. Great for a little one that has a persistent chest cough/constant colds! Vapour plugins are expensive but great when needed for that extras bit of airway clearance. I do think it's a little overpriced really but still a great product."
Cadrim Ultrasonic Humidifier
Best overall humidifier for your baby's room
Designed with kids in mind, this small, cute whale humidifier could be used as an aromatherapy diffuser or as a humidifier to keep moisture in the room. It has a colour changing light with seven colours and is made to automatically shut off after five to seven hours. The ultrasonic technology also means it is extremely quiet when it is working to not disturb you when you are studying, working or sleeping.
Specs:
Dimensions: 20.4 x 18 x 10.2 cm
Weight: 450g
Key feature: Waterless Auto-Off: shut off automatically after 5s when water runs out
One reviewer said: "We have been having problems with my niece she has had a really bad chesty cough but would scream if we tried to put Vicks or similar on her pillow, but we wrapped this up as a little gift for her and she immediately loved it. She was just so happy to see the steam coming out of the dolphin's head, then when she saw the night light changing colours she was amazed. Her mum sat with her for a while watching the colours change but in no time she was fast asleep and slept the whole night. Her chesty cough has still got a way to go but it is getting better. "
Renogy Mini Humidifier
Best travel humidifier
Despite being a rather powerful tool, this humidifier uses advanced mute technology for quiet operation, to make it super quiet for sleeping babies. It's designed for small spaces and on-the-go, with a USB port you can even use in the car. It'll work for up to eight hours with a timer so you can rest assured it'll work for the duration of your little one's slumber.
Specs:
Weight: 180g
Capacity: 280ml
Key feature: Under 26Db for almost silent operation
One reviewer said: "This little gadget is beautifully designed, simple to use, inexpensive and instantly reliable. I use it to keep my sinuses clear. It produces a fine mist using cold water, something that my brain can't assimilate even though I've read the reasons for it. So impressed and thoroughly recommend - currently have it on holiday with me, works using a USB cable supplied."
ASAKUKI Wi-Fi Smart Essential Oil Diffuser
Best humidifier for essential oils
Ideal for larger nurseries or bedrooms, this diffuser works for up to 16 hours to convert your favourite essential oils into a cool mist, to help relaxation, relieve stress, ease allergies and more. It can be controlled using the smart app to easily turn it on and off and change the settings and mood light. Alternatively, you can set a timer to suit you.
Please note, research the essential oils you use to make sure they're suitable for babies; generally you should wait until your baby is over three months old before using essential oils.
Specs:
Capacity: 500 ml
Dimensions: 17.2 x 17.2 x 14 cm
Weight: 700 g
One reviewer said: "Packaged well and arrived sooner than expected so very pleased. So easy to use! Take off lid, add some water and few drops of essential oil, put on lid, plug in and turn on! Smells lovely with my favorite lavender essential oil around my bedroom, it makes me feel calm and relaxed. Very pleased with this diffuser, definitely would recommend to friends."
TJC Damo Bear Humidifier in Orange
Best novelty humidifier
Shaped like a teddy bear, this humidifier will feel at home in your bubba's nursery. Available in orange or pink, this option is all about appearances. Running from a USB cable, this humidifier isn't for all parents but is very easy to use for others. We love that it can be used as an essential oils diffuser, too.
Specs:
Capacity: 160ml
Key feature: USB cable, can be used as a diffuser
Brilliant for use on the go
Vintoney Cool Mist Humidifier
Recommended
With over 3,000 reviews on Amazon, the Vintoney Cool Mist Humidifier will improve dry air with humidity. Simply fill it up with tap or mineral water, plug it in and activate the press the button to turn on the spray, twice to activate intermittent mist or press and hold once to turn on the light.
Specs:
Capacity: 500ml
Dimensions: 12.5 x 9.5 x 9.5cm
Key feature: Ultrasonic quiet operation - quietest option on this list
Review: "At the beginning, I had some doubt regarding the 10-16hrs working period as it arrived smaller than I expected. my old one has 2ltr capacity but only works for 8hrs and this one is only 500ml. I am so glad when I tried and it proved to worked 12hrs. I used it for my 3yo room (2x3 sqm) I turn it on at 7pm and at 7am it is still active! The design makes it not easy to spill the water. Perfect for little one, the auto-off is a bonus
Rio Dream Time Aroma Diffuser, Humidifier and Night Light
Best baby humidifer for relaxation and sleep
Does your child often struggle to drift off to sleep? Alongside a bedtime routine, kit out their bedroom with this soothing humidifier. As well as producing a stream of mist to ease their senses, the nightlight has soft colour changes. Plus, you can add essential oils like lavender to help them relax.
Specs:
Capacity: 100ml
Key feature: Automatic shut off option
Three to four hour runtime
Review: "Purchased for my little one and it's perfect. Produces a good mist, and it's a lovely little night light too."
Where is the best place to put a humidifier?
You want to place it somewhere in your baby's room where they will not accidentally knock it over or be able to reach any wires. You'll also want to place it somewhere where the mist can disperse well into the room. So you don't get a build-up of moisture on any surfaces or the ceiling.
Be sure to check what size room your humidifier is made for. If your room is too small, you could find the humidifier causes condensation and dampness. If the room is too big, it could be ineffective.
How often should you clean it?
As with anything in our homes, it's important we keep it clean to reduce the spread of bacteria. To keep our humidifiers and our rooms clean, it's important to clean out the water tank every one to three days and to change the water daily. Follow Paediatrician Sara Connolly's advice on how to clean your baby's humidifier efficiently:
Popular articles to read next: